My Story
---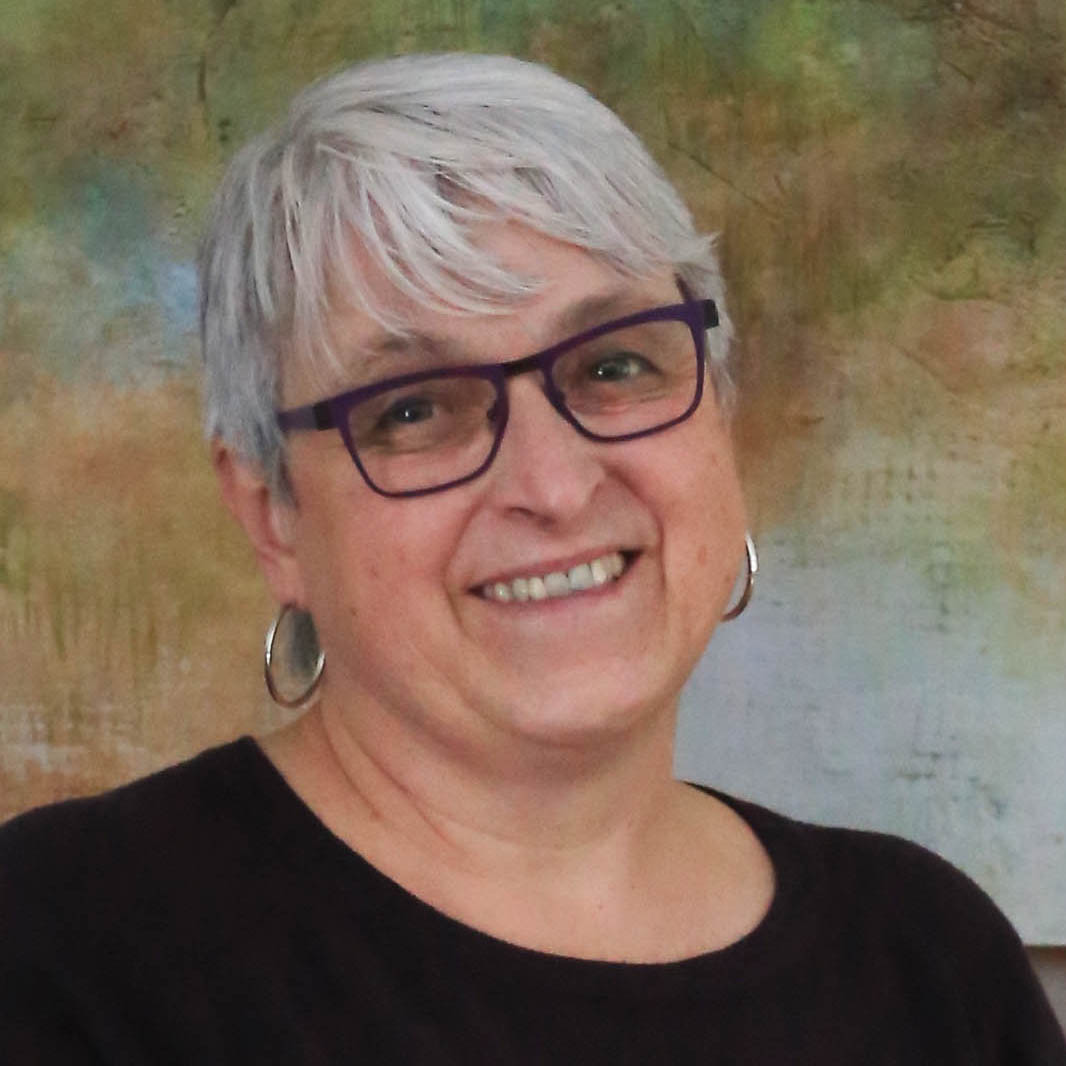 So, who is this Wendy Bachiu?
I am a Canadian artist. I live in Owen Sound, Ontario Canada where the deep blue waters of Georgian Bay meets the moss-lined rock face of the Niagara Escarpment. I live in paradise! Although I might have a different idea of paradise when I am shoveling snow in January…
I paint in cold wax & oil medium creating tactile abstract paintings with many layers of colour, deep texture and strategically placed marks and lines. I find abstract painting to be very freeing after years of more realistic painting. Still, I often pull out the watercolour paints and the drawing charcoal to keep my brain sharp and my hand steady.
I was a child in the 60's, a time when life was carefree and simple. I had an idyllic childhood on the family farm: roaming the grassy fields and cool, shady woods in search of adventure, playing with new pups, fluffy kittens, pink piglets and soft-eyed calves, splashing in the meandering creek that separated the barnyard from the wheat fields. My pre-teen self loved the Beatles (Paul was my favourite!) and I collected as many of those bubblegum cards as I could get my hands on. As a teen, I loved to do art. OK, I also still loved the Beatles then too…
I am an art instructor. I believe everyone is creative in some way. When I teach, I encourage each student to be courageous! My purpose is to inspire him/her to reach an artistic goal and I lead the cheering squad when a surprised student suddenly finds confidence in a newly discovered artistic ability. My watercolour and drawing classes appeal most to beginners; cold wax & oil workshops to artists searching for new techniques.
I am a vintage trailer fanatic. I have restored a 1963 vintage trailer to as close to original as possible. My second vintage trailer renovation was also a 1963—it has gone on to a new owner. I'm trying not to buy another "project" trailer but…
I am a graphic designer. My favourite design work is creating interpretive signage for historical and natural sites. I love local history and have researched my ancestors back generations, discovering chilling events such my great-grandfather's murder by his brother-in-law.
I am a grant & scholarship co-ordinator at a foundation which grants to projects and programs  run by charities in my community. It has made me aware that life is not "all about me" and that there are many caring, community-minded people who selflessly step up to make life better for those who need a helping hand. I strive to be like those folks.
I am a family gal, married to the same great guy since 1976. (He is a very, very patient man!) Our daughter is a glassblower; our son is a videographer and, even after 3 years, I am still surprised to be a "grandma" of adoring but high-octane twins! I never expected that to happen!
I am connected to the earth, having inherited my Father's love of the land and all things in nature. Driving his farm truck on a snowy road in winter, Dad could see a track and tell whether it was fox or coyote. He knew every tree and plant by name and once pulled us children out of bed to listen to a whippoorwill, lamenting that its habitat had disappeared and soon it would too. I have never heard one since.
And finally, I am a grateful soul who is so thankful to be able to live live an art-filled life, enjoy the world around me and have friends and family who wish the best for me. I am indeed blessed.
∞
(If anyone is interested, you can view my not-so-interesting resume here: Curriculum Vitae  but personally, I'd prefer that you spend the time doing art!)