Artist Statement
---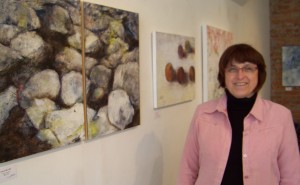 My paintings are influenced by ideas of balance, connection, transformation, movement, hidden elements, in combination with organic shapes, patterns and lines. My inspiration is often drawn from, but not limited to, nature and the outdoors.
I build my work on a foundation of good design and strong drawing ability, along with a clear understanding of colour theory and usage, and a proclivity to translate my vision to a finished piece. I am currently exploring the creative options that can be achieved mixing cold wax medium + oil paint, concentrating more on design, organic textures and subtle layering of colours then presenting a true visual representation of subject matter.
Graduating from both Design and Creative Arts in college, I worked in the graphic design and marketing industry most of my life, and also took a bit of contract work as promoter and administrator in the local tourism sector. All the while, I continued to paint and draw, teaching classes on a yearly basis. After years of working in acrylics and watercolour, I am now exploring Cold Wax + Oil technique. I still lead art classes and workshops while freelancing in graphic design of historic and interpretive signage and administrating a nonprofit community foundation.
My studio is located in my home in Owen Sound, Ontario, Canada. My work is in collections across Canada and USA and in Ireland, Holland and Denmark.