About
Graduating from both Design and Creative Arts in college, I continued with my fine art although my career centered on graphic design, with contract work in the tourism and nonprofit sectors. After years of working in acrylics and watercolour, I am now focusing on cold wax + oil. I continue to teach art classes and workshops. My studio is located in my home in Owen Sound, Ontario, Canada.
Cold Wax + Oil
What is cold wax & oil? Unlike encaustic wax which needs to be heated, the cold beeswax-based wax medium that I use can be mixed directly with oil paint. The mixture is applied in layers to a solid surface with texture and marks added, even objects embedded for interest. My paintings are based on design, balance, texture and colour with creative options which are not possible with conventional brush painting.
Workshops & Classes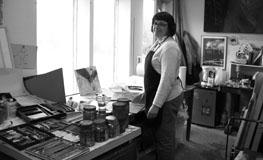 Do I teach classes or hold workshops? You bet! Although I teach all levels, beginner art classes are dear to me. I provide students with opportunity to learn & grow as artists in a non-judgmental positive environment with encouragement to find their own style & individualism. I have taught classes on a variety of art styles and methods so the information and techniques presented can often be adapted to other art mediums.