October already?
Where did September go?
It went so quickly with lots of great things happening that I didn't notice October slipping in.
September started with the closing of the 2014 Bi-Annual Juried Exhibition at the Grimsby Public Art Gallery. I was thrilled to have work chosen for this exhibition – a triptych titled Binary Mapping. If you are in the Grimsby area, take an opportunity to visit this lovely public gallery.

September was special for another reason – our daughter Kate Civiero and her friend Becky Comber published a beautiful hard cover coffee table art book. Backroad Craft takes a look at the work and studios about 30 local crafts people. The book was a huge success (no wonder!) and sold out quickly. Don't worry, the second printing is in process.
Seven eager students converged on Owen Sound for a Level 2 Cold Wax + Oil workshop in September. We rented an empty storefront on main street and painted to our heart's content! I love teaching this method but mostly I love the interaction with my students and discovering how much I learn from them.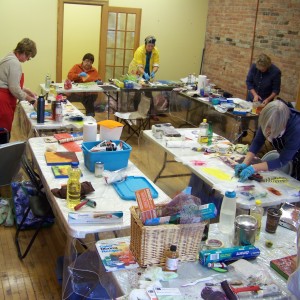 YAY September!  so what's going on in October?