My Painting Technique
I work in a relatively uncommon technique using Cod Wax & Oil. Many artists mix cold wax into their paints, possibly to shorten the drying time or to change the viscosity of the oil paint. What makes my technique different is how I use the mixture.
My Cold Wax & Oil paintings can be classified as mixed media.  Often I add "extras" to the paint, such as some sand to create texture. Sometimes actual objects might be embedded in my painting. Other times, I might add details at the end w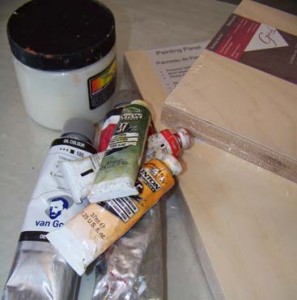 ith chalk or charcoal or pencil or oil stick.
The success of my Cold Wax & Oil technique relies on several things. I start with a substrate that is rigid so that there is no chance of the finished painting being damaged or the wax layers becoming cracked. I ensure that the substrate has several coats of gesso or I purchase painting boards that have been pre-treated with gesso. I use quality oil paint and cold wax medium.
I employ an unusual method of painting. Instead of a brush, I use a silicone spreader to apply and move the paint. The paint is put on in layers and later, when it has set a bit, I go back and make textures with found objects or scribe lines with a pointed tool or scrape back through some of the layers. I may add more layers or embed something that I feel would support the purpose of my painting. I may partially remove some areas of the paint by scraping or by using a solvent.
My painting relies heavily on rules of colour use and good design more so then on ability to paint a likeness. I find that, by using my painting skills and experience, I can make each painting look as realistic or as abstract as I want. Sometimes I start painting with a pre-determined idea, other times I decide to choose a col
our palette and see what develops after layering the colours in a random way.
As any painter does, I set my paintings aside when I reach an impasse, a point where nothing seems to be working. After a few days, I will go back and often the solution will present itself and I move forward.
When I am satisfied that my painting has reached the point of finality, I put on a layer of cold wax and, once it is dry, buff it to give the painting a slight semi-matte finish. The painting will dry to a very hard surface.
I really love this type of painting. I feel I am suited to it and it is suited to me. It has given my paintings a unique aspect and a fresh feel.