Making Marks – a weekend drawing course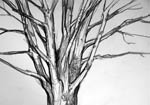 Would you like to learn to draw? there is still room in my Making Marks drawing course this Saturday and Sunday – August 17 & 18, 2013 –  at Southampton Art School and it is only $150.
It will be a fast paced and rewarding two days as we learn about shading, perspective, composition, light and shadow, drawing tools. Techniques taught here will used by the student after the class as they use these new skills in their own artwork, be it drawing or painting.
Contact the Art School as soon as possible to be included. Info is here.
I would love to have you in my class!