How did I get to be a Cold Wax + Oil painter?
You may not know this, but I formerly painted in a traditional way in both watercolour and acrylics, but had absolutely no interest in oils. I was very particular about my paintings, making sketches to get the design just right, taking photographs of the subject matter or painting on site so that the reference could be painted precisely & realistically.  Yep, I was pretty well set to always be a water-medium painter.
Or so I thought…
One weekend, my painting group invited local artist Sharon Barfoot, to demonstrate a technique using cold wax medium. My fellow painters were lukewarm to the result but I found it intriguing. Next I decided to explore it further at the Southampton Art School from Canadian artist Janice Maso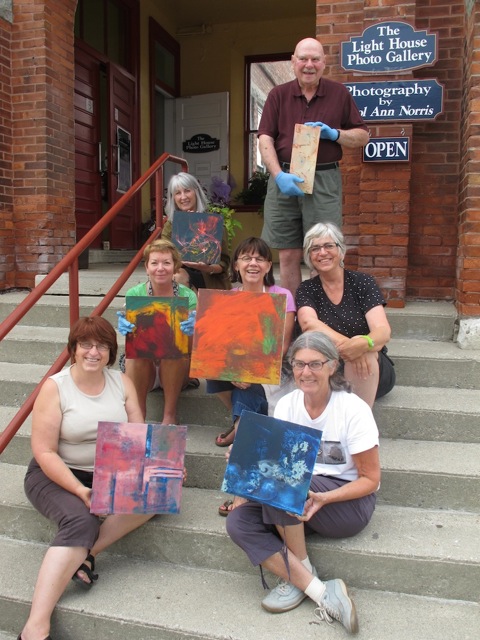 n Steeves who encouraged layering colours, adding textures and making marks with "unpainterly" tools. Paintings were developed more through intuition then planning and I found it a very freeing but also a slightly unsettling way to paint. I had to totally re-think my approach to my work.
My sable brushes began to see less and less of me. I purchased a spreader, a variety of oil paints and "relocated" an awl out of my husband's workshop.
In March 2012, I took a big leap and flew (by myself – an adventure in itself!) to Wisconsin to take Level II training from Rebecca Crowell, who I consider to be the top Wax & Oil painter in North America.  Along with 4 artist from across USA, I expanded my Cold Wax + Oil technique thanks to Rebecca's generosity of sharing her knowledge, her studio, her supplies and her encouragement.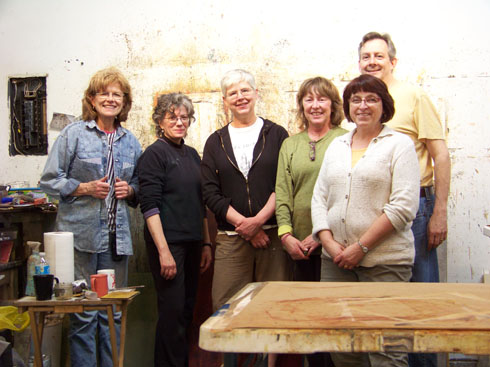 I am thrilled to say that I have been invited to attend the first ever Oil & Cold Wax Master Level workshop with Rebecca in May.  So it is off to Wisconsin again, this time to Shake Rag Alley Center for the Arts in Mineral Point. I can hardly wait to re-acquaint with my Level II workshop friends and to meet new Cold Wax artists and see  what they are doing with the medium!
So here I am.
An oil painter. An ABSTRACT cold wax + oil painter.
Who knew?