Figuratively Speaking
Figuratively Speaking is now on the walls of James North Studio, 328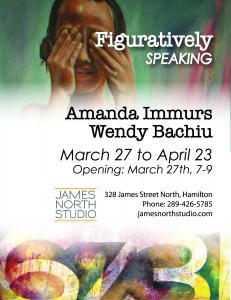 James Street North in Hamilton, Ontario until April 23rd, 2014.
Yesterday Amanda Immurs and myself personally hung our paintings and I must say, it looks great!It is amazing how our totally different painting styles compliment each other and how our colour palettes were uncannily similar.
Although I am not able to attend, Amanda will be at the Gallery for opening night, March 27th from 7-9 pm but I will be in the Gallery on April 11th from 7 – 9 pm during Art Crawl while Amanda will be soaking up culture in Paris, France. We'd both love to talk to visitors about out paintings, so stop in to the gallery on those two dates. Or any other time, for that matter.