I have been visibly absent from my blog for several months and I feel quite bad about that.
You see, it has been an extremely busy time and I was hard pressed to find extra time for many things, including my blog. The biggest time thief was in the form of a collaborative art exhibit in which I am participating.
I met my fellow collaborators, Cathy Byberg, Laurie Cochrane, Janet Henry and Susan Seitz, at a local painting studio several years ago. We have since been meeting on our own for the last year or two to paint, critique and support each others artistic direction. In a crazy moment, someone (alright, it was me…) suggested we do a proposal to the Durham Art Gallery for a showing in which we would all collaborate on pieces with one or more of our group. We were pleased to be accepted to do the show, but our turn-around time proved to be somewhat short and we have been painting like fiends for the last months of 2013.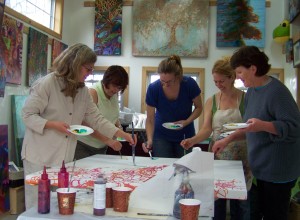 This frenzied painting stint has left many victims – this blog fell by the wayside, no leaves raked in the yard before snowfall, no pumpkin pies for Thanksgiving, no sweets baked for Christmas and only minimal housecleaning except for the Studio!
On the other hand, I have mastered the challenges of collaborating with other artists. It has been an interesting journey and I have enjoyed being part of this team of 5 who all have totally different painting styles but were able to pull together and develop an exciting and interesting exhibit.
Stay tuned for show dates and times.