A Whirlwind of Activity and Lessons Learned
Life has been a whirlwind of activity over the last 2 months, but some valuable insights have appeared during this time.
First, I took some personal days for a visit with my Aunt in Calgary (long before the devastating flood, and thankfully, she was not in the afflicted area when the rain did come). It was so nice to just visit with her and not have any deadlines or pressing appointments intruding on my time. Guess what I learned? Take time for to slow down and enjoy times with others who are special to me.
When I returned home, it was quite a flurry at my "day job" at Community Foundation Grey Bruce. It is grant distribution time! This is the most exciting phase of our year – we get to see what projects are being done by local nonprofit organizations and we get to assist most of them with much-needed financial support through grants presented at at our AGM. Look at it here. Lesson learned: we all should help make our communities better places to live, whether through volunteering, financial support or other ways of helping.
Next, my husband and I enjoyed (?) a 14-hour drive to Mineral Point, Wisconsin, where I took Masters Level III Cold Wax & Oil course at the Shake Rag Alley School for Arts. What a wonderful time it was, especially being among fellow Cold Wax painters!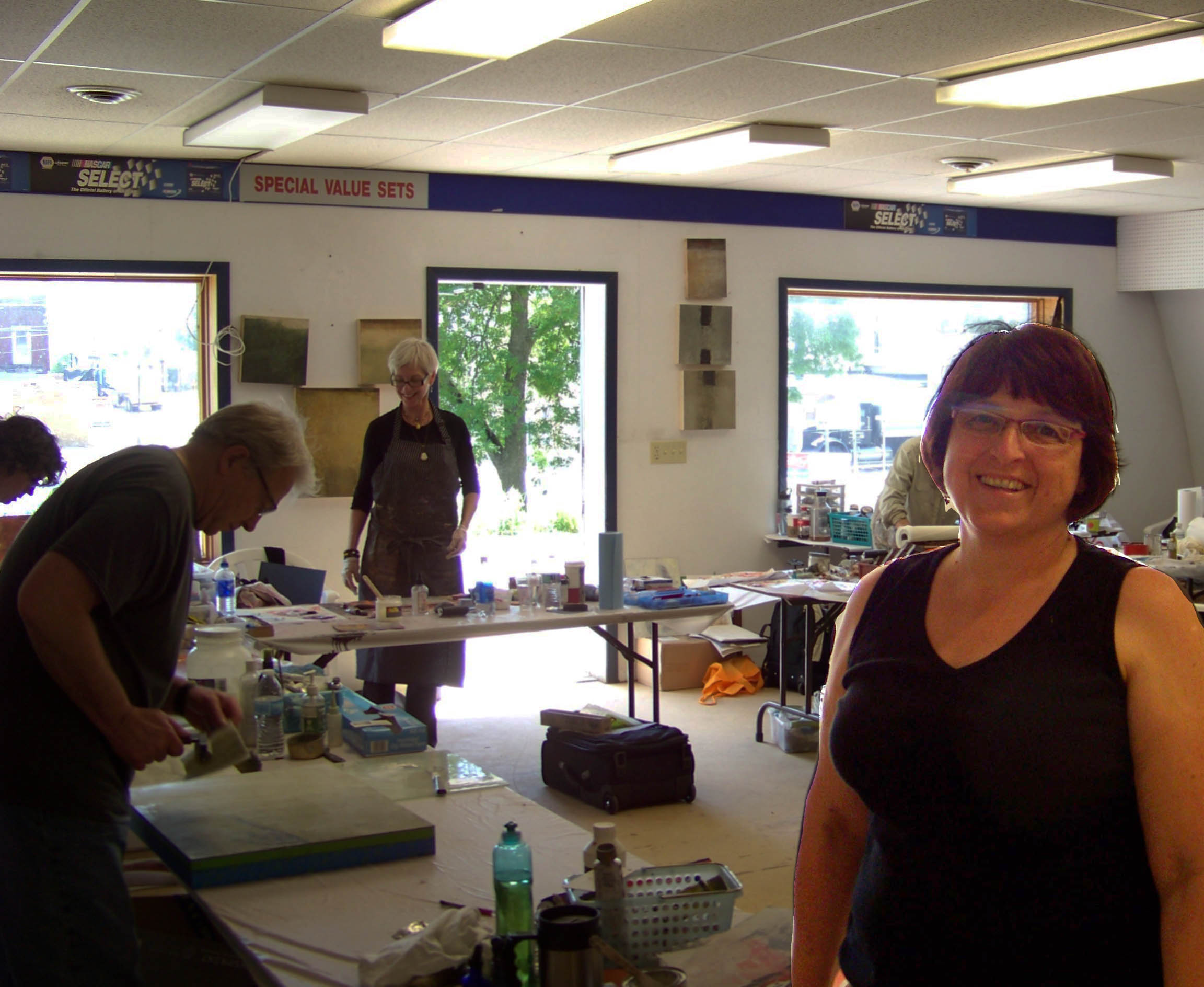 I have never been to any course in which the participants bonded as this group did. Thanks to Rebecca Crowell for putting this  together and thanks to Jim, Dianne, Eve, Renee, Jan, Shelley, Sara, Christy & Mark for allowing me the honour to count you as my friends. The focus for this course was on painting in series, but other interesting lively discussions, informative presentations and practical demos filled the the 3-day course. Did I mention eating at the local eateries? The culmination was a group show at the Johnston Gallery, which was amazing to behold. My insight from this time: it is important to connect with your peers.
Meanwhile, Mr. Bachiu had a very restful vacation, napping when he felt like it, getting to know the young women who ran the School of Arts (they had the best wifi connection in town) talking to the storeowners & restauranteurs in Mineral Point, as well as taking some great photographs of the area. We both love Wisconsin – especially the seemingly endless varieties of cheese! – and look forward to a return trip. Another insight – good idea to get your spouse to also take some down time.
In June, I  led a Cold Wax & Oil workshop with 4 delightful women in a wonderful space at the Harmony Centre in Owen Sound. It is hard to explain the excitement I feel when my students grasp the technique and suddenly take off. Each woman had a totally different style and it was amazing to see their finished work. Lesson learned here: NEVER leave a building without keys in hand. But I've heard even policewomen have gotten locked out of cruisers, so I was in very good company!
Off to my next Art Adventure – an artist residency at Georgian Bay Island National Park. I'm looking forward to rest & recharging, but most of all, art-making!!